Managing end-to-end licensing processes can be a huge headache. But don't worry - we're here to help.
Rights Tracker enables you to be on top of all your agreements for video, merchandise, image, published and audio media - all in one place. From creators to distributors to brand owners, our software is easy to use, scalable, and flexibly designed to work for any business vertical.
So if using excel doesn't cut it any more, or if you don't want to end up being the slave of an over-complicated behemoth system, then you've come to the right place.
We believe in working collaboratively with our clients to help drive revenue and profits, streamline content management and seamlessly facilitate business processes.
Since 2004 Rights Tracker has been a leader in rights management software. Our team has a strong licensing background, with a a deep understanding of the issues content owners face in fast-evolving markets.
With a broad client base spanning TV and film, global brands, sport, music and publishing, Rights Tracker has a wealth of experience in providing straightforward management of increasingly demanding, complex, and competitive licensing.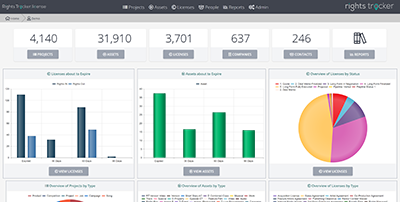 Let's keep it simple. Here is a top level view of what Rights Tracker can do. We would love to talk you through the details, so click here to find out more.
A central repository for all licensable content. Rights Tracker can manage any type of asset you want to capture - including elemental assets. It's super flexible, so you can define your own unique metadata fields for each asset type, and create highly flexible parent-child relationships.
Capture all original production or acquired rights, together with contractual, financial, royalty and other deal terms. Rights Tracker additionally manages all underlying rights agreements, elemental rights, clearances, and approvals. User-defined deal type metadata and flexible hierarchical rights dimensions enable any combination of rights windowing to be managed in the system.
Be on top of all aspects of your sales, licensing, and third-party distribution agreements. Rights Tracker will manage automated rights checks, MGs, royalties, rev-share, fee allocations and invoicing, deliverables, status validation and contract outputs. Each deal type has fully configurable data fields, along with custom workflow and invoicing approvals.
Rights Tracker's avails and conflict checks are super-fast. No waiting for pages to load, and no spinning icons. Just click and BAM! There's your result! Configurable reports, including colour-coding a grouping, are available in all the usual outputs. Meanwhile, via our APIs, our Availabilities Engine can deliver instant avails results directly through to client's platforms.
Reports and Notifications
In addition to Rights Tracker's report library, customer-defined report outputs and analyses can be designed and implemented. Reports are built on Microsoft Reporting Services and can be exported to a variety of formats. Meanwhile, notifications - including report attachments - can be scheduled out via custom triggers for automatic delivery.
As well as storing all company and contact information, Rights Tracker enables you to manage all early-stage pipeline Rights In and Out negotiations in order to maintain complete overview of deal activity. Pipelines can be converted to actual licenses via status workflows.
If you want to see some examples, click here to find out more.
Let Rights Tracker be the beating heart of your business ecosystem.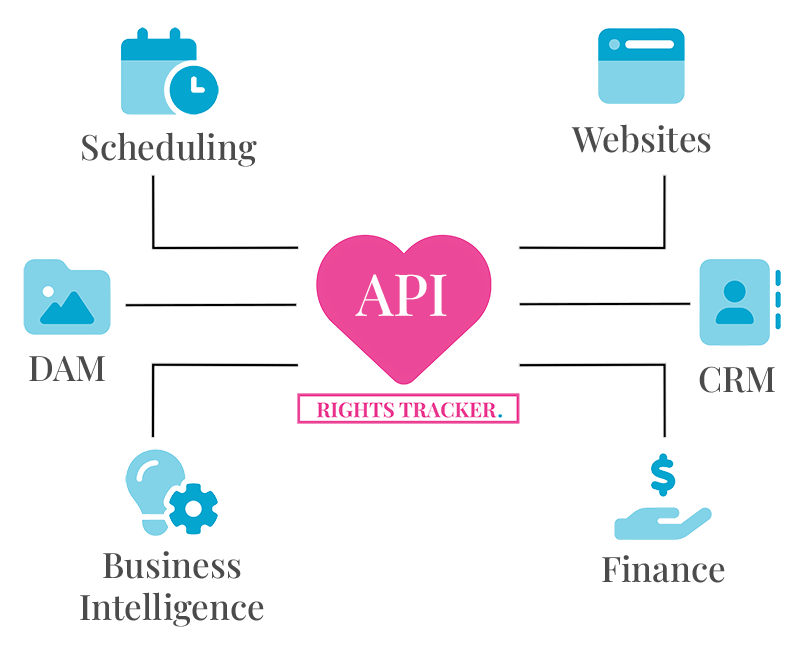 We believe in bringing together best of breed software in order to create vibrant, interactive business workflows for our clients. Integration via Rights Tracker's APIs enables industry applications to communicate and collaborate - effortlessly streamlining business processes.
So, for example, you can hook availabilities for all of your content into your asset management system, channels, or even your customer-facing content e-commerce website.
Do you want to target B2B or B2C customers directly?
Whether you have video, audio, image or published content, let Rights Tracker showcase your assets on your customer-facing licensing platform, branded to your specification. We can implement the end-to-end process from registration through to searching (including real-time availability checking), licensing, paying and delivery.
Your platform can be integrated with third-party software, such as order fulfilment systems and financial accounting software for a fully-connect range of e-commerce features. We offer UI and UX design, development, data consultancy and project management. And of course, by harnessing the power of Rights Tracker software, the licensing process will be super-smooth.
Please fill in the form below to find out more about Rights Tracker and how we can help you.